Sometimes We Need To Hit The "Reset" button
It is now over 2 months since my crash in Sardegna and my Hematoma is still there and Dr's have advised that I should not even be exercising let alone training and racing. If you missed my Sardegna Crash blog "Just Get Back On The Bike", you can access it here:http://kevinbradyhealth.ca/just-get-back-on-the-bike/
I am usually deep into Triathlon Race season at this point with typically a few races under my belt and the Nationals coming up. Based on my injuries this year,  I have had to "Reset' my goals and aspirations for this year and I have come to terms with it as I feel long term it is the right thing to do. I wanted to write this blog as I feel that it is important that although we all have plans and aspirations, we often have to change course due to circumstances. This is what I have had to do this year and wanted to share my story and what how I have reset my goals for the year. 
 Broke Fibula Skiing
It has been a different year from an injury standpoint for me. For those that read my blog on a regular basis, you will know that I broke my Fibula in 2 spots in a ski accident the first week in January. I feel I did everything right in terms of recovery from that injury as I needed to get training for my race in Sardegna. In fact, I trained through my injury by using an Assault Air bike as well as weights almost every single day while in my cast to get ready for Giro Sardegna. If you would like to access my blog on my recovery and training and cutting my healing time in half you can access it here:  http://kevinbradyhealth.ca/10-ways-i-am-cutting-my-healing-time-in-half/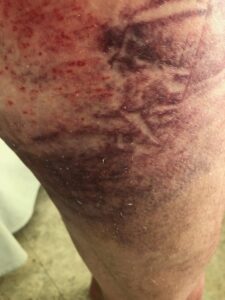 Cycling Crash in Sardegna
I managed to recover from that injury very quickly and was off my cast and crutches in 6 weeks and could resume my full training on my cycling trainer in my basement 4 weeks before Giro Sardegna. In fact I was able to get back skiing again in March at the scene of my broken leg that happened 8 weeks earlier so was really pleased with my progress.
Although I had my crash in Sardegna, I had a great week and was overall pleased with my effort and results based on the limited training I was able to do this winter. Following the crash on the third stage, I finished that stage as well as the other stages of the race. Although I was very beat up, had severe road rash and bruising, I felt that was recovering well while in Sardegna and the good thing was nothing was broken. My biggest concern at that point was preventing infection from the deep cuts and road rash as a result of me hitting the pavement at a very high speed.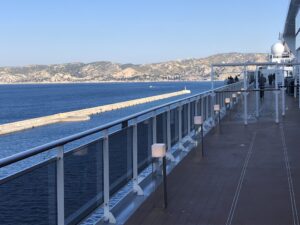 Recovery?
Barb came over to meet me the week after the race and we went on a great Italian Cruise. I spent the week bandaging my butt, hip, elbow, knee and ankle while we are on the cruise. That is when things started to go south as my hip and butt were swelling up and I  just thought it was healing from my injury. It felt like I had a very large "water bag" under my skin in my hip and butt area. 
9 Vials of Blood – Hematoma
We got home  the following Sunday and Barb thought I should get it looked at. Thank goodness we have fast access to the best specialists in the world through our Advica Health program. I sent one of the best sports docs (mainly works on Pro athletes) a few pictures of my hip on Monday morning and he said I needed to get in to see him "right away".  I drove to his office at lunch that Monday and they immediately said that it had to be drained. They took 12 Vials of blood out and decided to not take any more out as they were worried about potential infection as well as weakness due to taking so much blood out. In fact, he outlined the most blood he had ever taken out of anyone was Shawne Merriman (NFL player) and he had taken out 264 cc of blood from him.  He took over 600 cc of blood out of me when he decided to stop.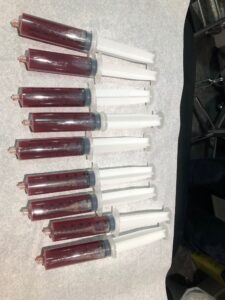 The diagnosis was a very large Hematoma which is essentially blood pooling inside the body due to a severe blow from my crash and hitting the pavement so hard.  The concern was that the blood can keep bleeding in which case surgery is required. Also the blood can pool and cause severe infection which can then move to the rest of the body. 
That week I took it easy although I went for a long ride on the weekend. The following Monday it was getting worse once again so I again visited the Sports Doc and they took out another 6 vials of blood. The concern was an infection so they also put me on antibiotics. The Sports Doc called me later that week and said that I needed surgery as they were worried that it continued bleeding internally. They suggested I see an orthopedic surgeon to get an opinion on surgery and also have an MRI. 
MRI and Orthopaedic Surgeon
Once again thanks to Advica Health, I was able to see an orthopedic surgeon the next day and get an MRI a few days later while in NYC for Laurens graduation. The orthopedic surgeon advised that they don't see many of these injuries and there are many different ways to treat my injury which means there is no great way to treat this type of injury. The sports doc outlined that if I had seen a Doctor while in Italy, they would have operated right away as they see this type of injury regularly due to the much higher volume of cyclists and cycling accidents. My sports doc outlined that what caused the hematoma was muscle sheering where essentially you fall so hard that your muscle shears away from the tissue. 
My MRI, confirmed my large hematoma and also pointed to other previous injuries like torn hamstrings in both legs. In fact, I had an appointment with the Sports Doc in January to get PRP injections on my torn hamstring however when I broke my leg we decided that it was best to let my body heal one thing at a time. 
The next week, I started really wrapping my hematoma tightly, icing and using my Game Ready machine that is an ice and compression machine all in one( Shout out to Mark Bruno at Game Ready). My hematoma went down considerably the following week and I stopped all cycling and training on Dr's orders in order to stop the bleeding. This was good news as the fact that it was going down meant the internal bleeding from the injury had likely stopped. He advised that any physical activity pumps more blood through the body and he compared my injury to a bleeding nose that won't stop bleeding unless you coterize it.
Where am I at now?
I am still wrapping my injury daily, icing and using my Game Ready machine daily and although the hematoma has gone down, the progress seems to have plateaued and it is basically the same now as it was a few weeks ago. I have been getting out and doing a few rides on weekends however would not consider it training as I have been going easy. I went out for a ride this morning with my Rise and Grind group at 5:30 a.m. and was dropped early as it is clear I am not in my regular mid season racing form.
No Worlds For Me This Year
Through Advica, I also had a second opinion performed by one of the best docs in the World that specializes in this type of injury from Harvard. He confirmed the diagnosis and suggested we look at it again at the 3 month mark (end of July) and make a decision on surgery at that point. So at this point, it is a wait and see game and clearly my focus can't be on training and racing. This is tough as I was supposed to compete in my 5th World Triathlon championships this September in Switzerland and it is evident I won't be able to do that as I have not even been able to run since I broke my leg in January. 
So here is a summary of what has happened this year:
I was supposed to have PRP on my torn hamstring in January.
Had ski accident in January, therefore, had to put off PRP for Hamstring

 

Spent the next number of weeks healing broken leg and then training for Sardegna
Cycling accident in Sardegna in April resulting in Hematoma
No real training so to speak allowed based on Hematoma at this time.

 
Reset Mindset
I feel due to my injuries this winter and the fact that I am unable to train now, it is not prudent for me to race this summer or at the Worlds in September. Therefore I feel that I need to reset my mindset and goals for the year which I am trying to come to terms with. I feel like in life, we need to reset our direction or goals based on what is happening at the time. Therefore, my workouts now are getting back to "easy workouts" instead of my typical full blast 100% of the time. In fact, after training hard and racing at the National and Worlds the last 5 years, it actually feels good to just go out and have an easy, enjoyable, Z2(Zone 2 ) low-intensity workout.
New Activities
My intent is to enjoy doing other activities this summer that I get enjoyment from while still getting a good workout from. This will include rowing (went for a great early morning row last weekend and loved it)!, easier rides than normal, long and easy "live in the moment" runs (when I am able), windsurfing and mountain biking. For the last number of years, I have not been able to do many of these activities as any of my active time was spent training. 
Rebuild Year
So I look at this year as my rebuild year so I can come back faster and stronger next year. So this year from a medical standpoint I plan to do the following;
1.Get hematoma fixed
2.Get Hamstring fixed through PRP therapy
3.Get strong again through weights and resistance training
4.Do other fitness activities so I build a functional strong body in many ways. 
So there you have it. Time for me to fix my injuries, get stronger in areas I need to focus on from a preventative standpoint and enjoy many other activities in the process.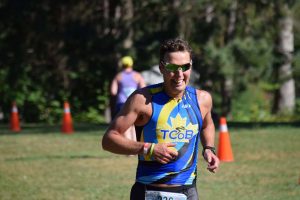 Racing Next Year?
So I am resetting my direction and goals for this year and in fact not sure where I will end up later this year or next year in terms of Triathlon racing. In fact, I have reflected that I started doing Triathlons recreationally 10 years ago and more at a high level at the Nationals and Worlds the last 5 years and perhaps it is time to refocus on another sport or stop competing altogether.  I will let you know how I progress on that decision as I progress throughout the year. 
Therefore, my point is in life we all have plans and aspirations however life and circumstances change and therefore often we have to "Reset" our goals and directions. I am good mentally with my redirection and I am looking forward to doing other activities and getting strong over the next number of months.
Yours in great health,
Kev