Lost My Best Pal Last Week
Lost My Best Pal Last Week
This past week was one of the toughest weeks of Barbs and my married Life as we had to put down our Dog Wilson. He lived to a ripe old age of 18 however for those that have been through it, there is no easy way to say good bye. I tell people that I was "Young" when we got Wilson as I was 38 when we got him and the kids have all grown up with him. Needless to say, Wilson was a great part of our family life over 18 years. We celebrated Wilsons birthdays with the same celebration and fanfare that we celebrated all of our family members.
A quick Decline
Wilson was still climbing full flights of stairs and was in relatively good shape for his age until about 6 months ago. Recently we took Wilson to Whistler with us as well as NYC to see Lauren and we could tell on those trips he was starting to really fail quite quickly. We went back and forth with our decision over the past 2 weeks and I think Barb and I both knew that it was time put him down. He was "panting" non stop at night and most nights he would wake me up to take him outside to go to the washroom (and of course get a treat)! at least 2 times per night. Because he was failing rapidly the last few weeks I didn't mind taking him out during the night 2 or 3 times as I knew that his days were limited.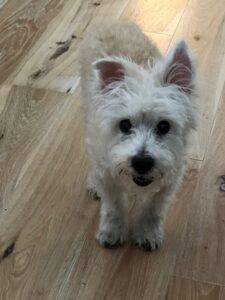 Vet Assessment 
Barb took Wilson to the vet twice over the last few weeks to get an assessment and to get their opinion on whether he was suffering. We really wanted the Vet to tell us that it was time to put Wilson down as it would have made our decision much easier. However even last weekend when Barb took Wilson in to see the Vet, they didn't direct us to put him down as they said it was our decision. 
I was even hoping that Wilsons bodily functions  would really fail over the past few months where there would be no question as to whether we needed to put him down however unfortunately that did not happen. Wilson kept "existing" and although was going down hill, he didn't seem sick and more of our concern was any pain he may be in as he was having a real tough time walking. This I think would have made it much easier on us. He did however  get even worse last weekend so we both knew that it was time.(which we dreaded).
I also knew that I was going away to my cycling race in Italy and I did not want Barb to have to deal with this on her own. Barb is also joining me the second week over in Italy so the last thing we wanted to have happen was for Wilson to pass away while we were gone in which case we would not have a chance to say good bye to our friend.
Reluctantly booked a time to put him down
When Barb took him to the Vet last Saturday, she booked a time for us to put him down Monday and we had discussed having it done at home as typically when we take Wilson to the vet he is shaking like a leaf and we did not want him to go through that prior to putting him down. We let the boys know on the weekend that the plan (at that point) was to put Wilson down at 5:30 on Monday. Tim and Matt both came over Sunday night and it was very very sad as they knew that was likely the last time that they would see him. They each took private time to say their own good byes in their own way. It was also very sad for Barb and I as we couldn't help but think that would be the last night that Wilson would be spending in our home. My heart is aching right now as I write this as it brings me back to those same emotions. 
Barb and I talked about it again on Sunday night and she left it with me that if I wanted to cancel the appointment on Monday that I could no problem.  Sunday night Wilson was panting again all night and I ended up taking him outside 3 times during the night. I couldn't help but think that he was in extreme discomfort and was obviously not in great shape. Once again it was very sad as I knew that would likely be the last time I would take Wilson outside during the night.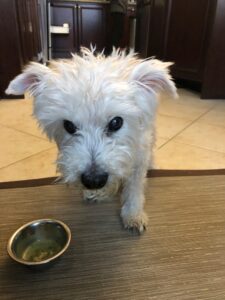 Wilsons Last Day – Very Tough
When I woke up Monday morning Barb asked me what my thoughts were and I knew then that the right thing was to put him down so he would not suffer anymore so suggested we keep that appointment with the Vet at 5:30 that day. Monday morning I got up early as I was not sleeping well and had an early morning workout. After that I had my traditional "Morning Shake" that of course I shared with Wilson. Wilson has been sharing my shake with me most mornings for the last 10 years and many believe that is one of the reasons that he has lived such a long and healthy life. Once again, I was choked up thinking that would be the last shake that Wilson would have……..it was so so sad. 
On Monday,  I couldn't help but think of what was going to happen at 5:30 and was trying not to think about it however as the hours passed, I was counting down. On my way home at 5:00 It was super difficult to think that our pal Wilson would not be around in an hour and I was in tears just driving home from work.  When I got home, I was of course crying and Barb was holding him tightly and doing the same. 
As many of you know, Lauren is attending her final year of School in New York City at Parsons School of Design. We new that she had been working day and night the last number of weeks on her thesis and her presentation to the professors and her class was on Monday afternoon. We knew that Lauren would be devastated (as all of were) with the news and did not want to upset her before her presentation. Having said that, we also wanted to give her the opportunity to say good bye to Wilson as we had promised her we would do this. As we cuddled and consoled Wilson we txt Lauren and asked her to call us right away. Fortunately she did and she face timed us and had the final chance to say good bye to her pal Wilson. It was so so sad. 
Barb and I took a turn each taking Wilson out in the nice sunny back yard and each of us held him and said our good bye's. Once again I am choked up just thinking about this. I took Wilson out in the back yard and the sun was shining and I held him tightly and kissed him many times as I was crying. It was so sad. 
The Vet and his assistant showed up on time at 5:30 and we knew that it was now time. It was very peaceful as Barb held Wilson on the couch and I petted him. They initially gave him a sedative that made him very sleepy and not able to feel any pain. After about 10 minutes the Vet took us through what would happen and asked us if it was time. He then gave Wilson his final injection and Wilson was still awake and within a minute he had passed very peacefully. I would suggest that for anyone that has to put a pet down, it is fully worth the extra $ to have it done in your home. We were talking after that if we had taken him to the Vets office, he would have been petrified as he was every time he went to the Vet.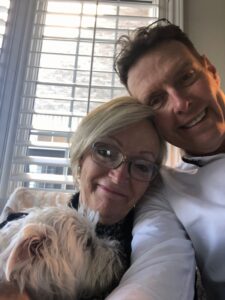 The fine line between Life and Death
What struck me with the passing of Wilson was what a very small line we all have between "Life" and "Death".  One second Wilson was alive, breathing, his heart beating and literally a second later he had passed away. In fact once the Vet said Wilson had passed, I asked him to check again as I thought he was still alive. It taught me how precious life is and also how in an instant in can be over.
I would not wish what we went through upon anyone however I know many many of you have dealt with the same situations. Barb and I want to thank all of you that sent notes, condolences with the passing of Wilson. Because he had lived such a long life, he had a lot of admirers over the years. We also want to thank our children – Tim, Matt and Lauren for the amazing love they gave Wilson over the years and also they're understanding when it was time to say good bye. 
This past week Barb and I shed many more tears as the house seemed "empty" without Wilson. Barb is heading north to the cottage for Easter and I know it will be tough for her as well as Wilson has been with us every visit to the cottage over the last 18 years. 
As I always say, time is a great healer and every day is getting a little better. In looking back at our decision, I 100% believe that we made the right decision and likely should have put Wilson down a little sooner based on his failing health. Having said that I believe our timing on the decision was a good one based on his condition. 
Wilson, we will always miss you and a day won't go by that we won't think of you. You are in great hands now as I  know Grandma Joanie (who loved you so so much) and Uncle Bill will be so happy to see you and will be looking after you. 
Rest in Peace Wilson
We love you, 
xoxo
Love Dad, Mom, Tim, Matt and Lauren