GiroSardegna 2018 – Overcoming Adversity
GiroSardegna 2018 – Overcoming Adversity
It is amazing what the mind can do and can put you either in a great place or a really bad place. I experienced both of these emotions this week while racing in GiroSardegna. I had 2 major setbacks(one physical and the other bike mechanical) at the beginning of the week. Both of these were very tough as this is not the way you want to start a race. However following those setbacks, I somehow "got back on the saddle" and managed to finish the week strong and actually felt really good about the week.  Today I share my story of the adversity I experienced and how I managed to overcome it.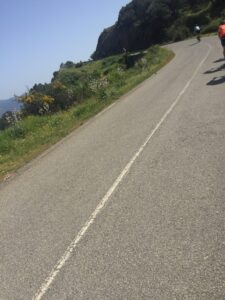 Stage 1 – 130k – My Toughest Stage ever
The race started on Sunday after we arrived. I am not sure whether it was because I "tapered" for 5 days prior to the event or was just excited, however, I felt really strong and went out way too quickly. I was with one of the lead peloton groups and was feeling great and had a ton of energy. They started the race with a supposedly "easy" rolling start for the first 14.5k until the official race began. However, the rolling start was super fast out of the gate and many times I looked down at my computer and we were averaging 45k/hr.
Prior to hitting the mountains, there was a water station at about the 60k point and I was feeling so strong that I raced through it and managed to grab just one water bottle. The other issue was that it was a very very hot day and we had not done any training in heat whatsoever as in fact the weather was so bad at home we couldn't even ride outside leading up to the race.
When I hit the mountain climb,  I started to have problems. I could feel my legs starting to cramp on the big hills likely because I went out so hard and also due to the severe heat. At one point I looked down at my bike computer and it was registering 36 Celcius.
My cramps got worse and worse until I hit the wall.
My legs cramped so badly that my legs actually froze and when they did I fell off my bike on the road as I could not move my legs. My legs were in a locked position out in front of me, my bike was lying on the road beside me and I could not move even an inch. Other racers stopped as they went by to make sure I was ok and I waved them on. My legs were rock hard and I would see every muscle convulsing before me. After a few minutes, I managed to pull my legs towards my chest and push my bike and me off the road as I was afraid of getting hit by a car. What was going through my head was how was I going to finish the race as I was only at 80k and had another 50+k to go. Also, this incident brought back memories of my Hyponatremia Coma from 1999 and was a little worried this could be a repeat.
Well, I very slowly managed to get up, wiped the blood off my arm and leg from my fall and left all my supplements and nuts on the road. I started walking slowly to get my legs moving and thought this would be a really long 50k walk to the end of the race. Other racers were going by me as it had likely been about half an hour since I hit the wall and Tim came by and asked why I was walking. He had seen all my nuts and seeds on the road and thought maybe I had hit a bump. I let him know about my cramping and he offered to stay with me but I waved him on. My pal Glen Rosart also came to me and asked if I needed help and offered to stay with me which was amazing however I wanted them to go on and finish the race.
An ambulance came by and asked if I wanted to climb in as I was walking and I let them know that I wanted to try and finish. They did give me some water and I put an electrolyte tablet in it and started drinking it and felt better. Also when Tim went by me he gave me what was left in his energy drink which I am sure he was sorry about later in the race as he was also cramping.
After about 45 minutes of me hitting the wall and walking, I thought I would try to pedal my bike. I hopped back on and very painfully started easy pedaling. I did not clip my shoes into the pedals as I was worried my legs would freeze once again as I felt like I was cramping and on the verge of falling off my bike.
I have never counted down the km in a race before like this as every km and every pedal stroke was painful. Many times I pedaled with only one leg as the other one was cramping. The last 20k I once again came in contact with Tim and he was now badly cramping as well. The last 5 km I had to pedal with only my right leg as my left was cramping so badly.
When I hit the finish line at 130k I was worried about falling off my bike so I went over to a light post and leaned against it. then I laid down on the side of the road and Darrell came to my rescue with a water bottle and I had another electrolyte tablet. After a few minutes, I eventually hobbled over to join our team members. I can honestly say it was the most painful, longest race day of my life. When we left to ride back to the hotel, I had to stop after about 250 meters and get off my bike as I was still cramping so badly. The owner of a restaurant came out and massaged my legs to try and get rid of the cramps.
Cramping is basically internal bruising of the muscle tissue and my concern was that I still had 5 days left to race.  I immediately texted my nutritionist Marina and she gave me some remedies to try and get rid of the cramping and her suggestions were to consume a lot of Magnesium and electrolytes. Thanks to Marina it seemed to work as I did not cramp to that same extent the rest of the week. I was particularly concerned about the Grand Fondo(the longest race of the week) and cramping once again.
That night Tim and I also had a 20-minute massage to try to recover as the next day was the Time Trial. Although the Time Trial is full out, it is relatively short so I was not so concerned about the cramping. I was concerned however with how much power I would be able to put out based on the muscle damage I had endured Day 1 through cramping.
 Stage 2 – Time Trial – 25.1k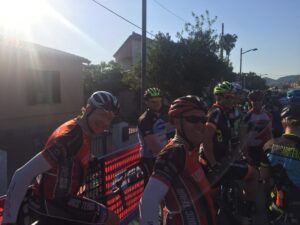 On Day 2, my legs were extremely sore from the previous day cramping. To be safe, I had magnesium at breakfast and also had electrolyte tablet in my water when I woke up. I can honestly say that I went as fast as I could possibly go and gave it an all-out effort. I knew based on the soreness of my legs that it would be "Mind over Matter" and I had to emotionally dial it in to have a decent stage. I was pleased with my performance based on my previous day cramping issues and managed to average 37.5 km/hour.
Stage 3 Tuesday – 124.3k
Going into Day 3, I was concerned as once again it was a longer stage, it was very very warm and I was concerned about cramping once again. Tim and I went out together in the same Peleton with other members of our club and were going at a fast but good pace with our group. As we lined up at the start gate in the morning, I needed to go the washroom so leaned my bike up against the fence. When I came back Tim let me know that someone had knocked over my bike(not intentionally of course). I didn't think anything of it until we started racing. I noticed that when we hit a hill and I shifted into a low gear, my derailer was hitting my rear wheel spokes. One of my team was riding behind me at one point and let me know that my derailer was bent and was likely an inch or more out of alignment.
We maintained our pace for the first 60k then when we hit our first major hill, I downshifted and I stopped dead in my tracks and once again flew off my bike. I was ok but when I looked at my bike I knew I was in trouble. Due to the hill and the extra force I put on my crank, my derailer caught up in my spokes and stopped me dead in my tracks. Well, I knew I was done for the day. I stayed there as the others went on and eventually a local Italian called the race emergency number and they eventually picked me up. Shout out to Tonino as he picked me up from the Van and put my bike in the back of his convertible and drove me back to the hotel where the bike mechanic was located. I was very concerned as I still wanted to race the rest of the week but was unsure whether my bike could be fixed. Through tough language barriers, I realized from the mechanic that I needed to go to the city Olbia to get the part that I needed for them to fix my derailer and attach it to my bike. Thank goodness, they had a similar part and I managed to finally get my bike fixed for the next day at 9:30 that night. Thanks and a huge shout out to the mechanic at the race as he managed to somehow get my bike fixed.
Based on what had transpired the first few days of the race, I was concerned as I was starting to think negatively about the race and that perhaps I shouldn't be there. Were these all "signs" that I should not be racing this year? I was particularly concerned as the next day I had the longest ride of the week as it was the Grand Fondo. It was not only long(145k) but the significantly climbing involved with over 2000 meters of mountain climbing.
That night I had a great chat with Darrell who gave me his recipe for long race nutrition and what to do to avoid cramping again. It was great advice as he coached me to be "on the clock" with food and electrolytes and it was amazing advice. Thanks, Darrell for all of your help with nutrition.
I also knew that I needed to get my head in the right spot in order to have a good stage on Day 4.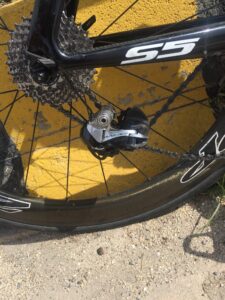 Stage 4 –  Grand Fondo – 145 km and 2000 meters of climbing
Needless to say, I was very worried about the Grand Fondo as it is by far the longest and most intense leg of the Giro. I was very worried about cramping, the heat and also the over 6000 feet of climbing we had to endure. I followed the advice of my nutritionist in terms of getting ready for the stage and also followed Darry's recipe in terms of nutrition and electrolyte replacement during the race. I kept thinking I was going to cramp after 70k, 80, 90 km based on what happened to me in Stage 1. The good news is although my legs felt tired from the very intense day, I had a great race and didn't cramp at all. In fact, I finished the event very strong with a group of Italian riders. All in all, I was very pleased with this leg of the race as it was a true test of my emotional, mental and physical strength.
The best part about the Grand Fondo(besides not cramping) was that Tim and I almost raced the entire 145 km stage together. This was not planned as we said every day we would race our own race, however, we ended up in the same Peleton at the beginning of the race and had many miles together in the grueling long hills in the middle portion of the race. It wasn't until the very end that the group we managed to catch split into 2 groups and somehow we got separated. We did finish however within a minute or so of each other which is great considering we were riding for approximately 5 hours.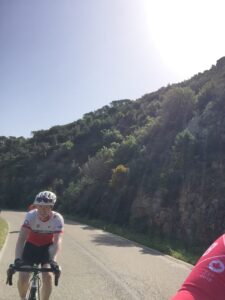 Stage 5 – Team Time Trial – The Adrenaline Rush
This stage is one of my favorite rides of the week as it is a full out time team time trial. So from the start, you ride as a team essentially one inch off the wheel in front of you and progressively take turns "pulling" or leading the other cyclists on your team. For those that aren't used to drafting, it immensely increases your speed as a group and is similar to doing very hard interval training. When you lead the group you are using maximum power as you are taking on all the wind and then 30s later you are at the back and taking advantage of the vacuum effect of the riders in front of you. We split the Canadian contingent into 2 groups based on previous results. We worked very well together and both Canadian teams finished within 10 seconds of each other. A special shout out to the great riders on our team – John, Glen, Tim, Rob and Michael(who we recruited and was a great addition to our team!).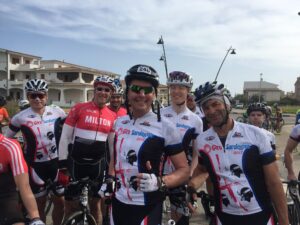 Final Stage- Mountain Climb
The final leg was fun as essentially it was 2 races in one. The race started out full blast as it was largely flat and racers try to position themselves well for the mountain climb as it is difficult to make up position on the climb. We managed to go out really fast and ended up in the second large Peleton prior to the climb. It was 20k of basically flat full out riding until we hit the climb. However, the real climbing began at the 27k mark and lasted for about 8 k. It was without a doubt the steepest, longest road climbs I have ever done. In some cases, it was all I could do to turn my pedals over and not stop as we were hitting 15% grades. For most of the climb, I could see Tim in front of me on every switchback. He had a great race and although I was determined to catch him when things flattened out at the top, he was not backing off. He had an amazing finish to the week with this leg and I was also really pleased.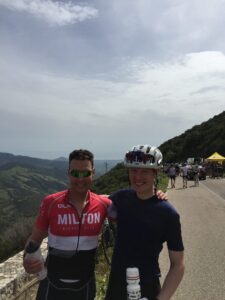 Summary – Giro 2018
So all in all, based on the eventful start that I had with both severe cramping and a bike mechanical, I was very pleased with how I finished the week. I had one of the guys in my group comment that I could have easily thrown in the towel and given up however I actually got stronger each day of the race. In fact, he couldn't believe that on Stage 1, I did not climb in the ambulance when I had approx 50k to go and was walking with my bike due to my severe cramping.
It is amazing that when we put our mind in the right and good place, that good things happen. I had to change my mindset with the adversity I was facing early in the week and was bound and determined to get back to the way I knew I could ride and it paid off mentally and physically later in the week.
A special shout-out to all my Canadian racing friends and in particular John Norris who is our leader and organizer of this amazing trip. Also a huge shout out to my son Tim for joining me on this great week as there is nothing more special than spending time with our family and our children.
I think Tim summed the week up perfectly when I asked him what he thought of the Giro and he replied: "I have never done anything that hard or intense in my life – a real test of mental and physical toughness!"
Wishing you a great healthy week, Kev