Bad Things = Good Things
You have likely heard the saying that"bad things that happen to us in life, happen for a reason." I personally have experienced this on many occasions in my life and wanted to share my most recent story. 
For those that read my blog, you will know that I have had a tough year injury-wise which sidelined me from racing this year. First I had my skiing accident in Whistler in January which resulted in me breaking my leg in two spots. If you missed this blog you can access it here:http://kevinbradyhealth.ca/why-do-bad-things-happen/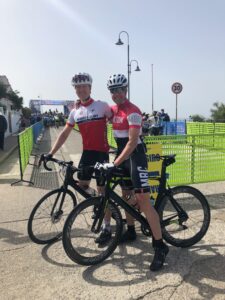 After a quick active recovery from that, I crashed while competing in a cycling race in Sardegna Italy. Although I thought my injury was limited to cuts, scrapes, and bad bruising, it turned out I had a really massive hematoma on my right hip. The diagnosis was not good as the Hematoma was so severe that after consulting with different Doctors and specialists, a specialist from Harvard finally suggested in July that I eliminate 100% of any cardiovascular training. This, therefore, sidelined me for the season and the tough part was that I was not able to compete in the World Triathlon Championships in September in Switzerland. If you missed my blog on my crash in Sardegna, you can access it here:http://kevinbradyhealth.ca/just-get-back-on-the-bike/
Good News – Hematoma healed and no PRP required
However, last week I received great news when I visited my  Sports Doctor, Sean Kings at the Galea Clinic(One of the leading advanced sports injury facilities in the world). He did an ultrasound on both my Hematoma and also my torn Hamstrings. My torn Hamstring was from a previous running injury that I had originally planned on getting treated through PRP therapy prior to breaking my leg last January. Based on my broken leg and then Hematoma, they advised that I hold off doing any PRP until my injuries healed. 
When I was told not do any cardiovascular activity to allow my Hematoma to finally heal, Sean Kings and my sports Chiro Dave Schenkel suggested  I go on a strict strength training program in order to build and activate the muscles in my Hamstring and Glutes. They worked with my son Matt who put together the strength training program for me. This actually became my workout regimen over the past 3 months as that was all that I was able to do. Any cardiovascular activity including running, swimming or cycling aggravated my Hematoma and caused it to inflame and therefore once again I could not do any of these activities.
So over the past 3 months, I have been religious about getting my minimum 3 weight workouts in per week even while I was traveling.
Can Get Back To "Slow" Cardio
The good news is that when I visited Sean Kings. he could not believe how my Hematoma had diminished. Although it is not 100% gone, it has reduced in size and there is very little fluid left in the cavity. In addition, when they did the ultrasound on my Hamstring and the surrounding area, although it is still torn, he outlined that it looked good and since I was not having any pain then I could "very slowly" resume some Cardiovascular activities(running, swimming and biking). However, he did caution me to start very very slowly back to running and start with a "Walk/run" maybe once a week at the beginning. My plan at this point since it has worked well is to keep on my strength program until the end of the year and at that point start introducing some very easy and slow cardio.
Tricked Myself
I must say that when he told me the news that I could get back to my regular Cardiovascular training I was elated. Looking back, I had convinced myself that I was "ok" with not doing my regular Cardio activities including racing over the last 6 months. I must say that now I am really excited and I am building my training plans for the new year, upcoming races and hopefully the worlds which will be in Canada again next year.
The World Triathlon Championships – Back in Canada
The first worlds that I qualified for was special as it was in held in Edmonton five years ago. It was really special as our oldest son Tim also qualified to represent Canada so we both competed. To make it even more special, Barb, Matt, and Lauren came with us to support us and celebrate. It would be special once again to be able to compete in Edmonton again this summer, 5 years after we qualified for our first worlds.
Bad News = Good News
 Once again in life, I can see that what transpired this past year from an injury standpoint actually turned out to be good for me. So often in life, what we view as bad circumstances at the time actually, in the long run, turn out to be for the best. In the case of both of my accidents, I could have been much more seriously injured and in fact, they could have been life-ending. My catapulting fall down the backside of Blackcomb mountain, as well as my cycling accident in Sardegna, could have been life-altering or even life-ending. So I consider myself to be very very fortunate. 
In addition, my Hematoma forced me to give up my regular training and racing(mainly cardio) and instead forced me to stick to a strict strength training program. It turns out that this was the best thing for me in the long run. My body fat has decreased 3% over 3 months while increasing muscle mass but most importantly I don't need surgery for my Hematoma and at this time don't need PRP therapy on my Hamstring. So the bad news of not being able to train or race has resulted in the good news of no surgery and as well I will be much stronger moving into next season. 
Everything in Life Happens For a Reason
So once again in life, bad things = good things in the long run. My message here is that when bad things or bad circumstances happen to us in life we are unsure as to why these things happen and usually ask ourselves "Why Me"? When we look back at these "bad things" we realize that they are often a blessing in disguise. As I often say and believe, "Everything in life happens for a reason".
Wishing you a great, healthy and fun day,
Kev