2 Years Down, 28 To Go
Training Week 2 – Whistler B.C.
Approximately 3 weeks ago Lauren and I had "Training week 2" in Whistler, B.C.
Last year Lauren and I had the genius idea of heading out to Whistler for a week of training, hiking and enjoyment. It is a week where we run, hike, mountain bike and do any other activity we can engage in while enjoying all that nature and the Mountains have to offer. I find the week to be amazing as instead of trying to do fit in a workout, essentially our entire days are based around an activity. I also find that there is nothing that grounds me or brings me closer to nature than the Mountains.
Last year when I was 55, Lauren and I ran up Whistler Mountain as part of our training week where we ran up over 8000 feet. 
Set A "Date" To Run Up Whislter When I am 85
Last year when I was 55, Lauren and I had the idea to run up Whistler Mountain as part of our training week. We made a "date" last year as I said to Lauren that I wanted to still be doing this run or at least hike up Whistler for at least the next 30 plus years. We said we would set a "date" to run up Whistler when I was 85 and therefore she would be 51 at that time.
Had not run a step in 8 Months
The difference this year was that due to me breaking my leg skiing "off Piste"  in January followed by my cycling crash in Italy, I had not been able to train or race like I typically do in the summer. In fact I had not run a step since before Christmas last year(8 months with zero running). So when Lauren and I planned on running up Whistler this year, I was game to try it however I didn't even know if I could run as I was under Dr. orders to not run, bike or do any endurance activities due to my Hematoma over the summer months. I let Lauren know that I would start out and see how I felt and did not even know if I could run at all. I said we would start out and If I couldn't do it, I would hike or run back down and take the Gondola up and meet her at the top. 
We started out the run and somehow I felt ok and actually enjoyed it. The first half of the run was up Singing Pass trail that extends between Whistler and Blackcomb mountains and takes you up through Oboe Mountain and Cowboy Ridge. It was up hill the entire way to approximately  5000 vertical feet. Lauren and I set a timer and every 30 mins had a quick liquid break and we took turns carrying the backpack with all our supplies. Once we hit the Upper Alpine we then had another 3000 feet of vertical as we had to run up Oboe, Flute Summit(back in bounds), Symphony, Harmony Ridge and finally over to the Roundhouse lodge at Whistler Mountain. It took us over 4 hours of running and we ran over 26 kms to the top of Whistler.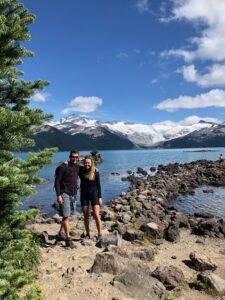 Amazing How the Body Does a "Work Around"
I was amazed that I had the cardiovascular capacity to not only handle the run up Whistler but the training for the entire week. I was also encouraged that my leg felt ok as I had not run on it since my break in January. This was especially true since I had done zero running and very limited cycling all summer due to my injuries. What I realized is that the body adapts and even though I wasn't doing my normal level of training, my body worked around my injuries and still allowed me to  be in shape for the week. As you know from previous blogs, I used my injury as an opportunity to engage in other activities. So instead of running, cycling and swimming every day, I instead focused on a weight program(thanks Matt)!, and used the summer to do other enjoyable activities like kayaking and rowing at the cottage. 
So my point is that even though I could not engage in my normal training schedule, by focusing on other sports and activities, I somehow managed to stay in decent enough shape to run up Whistler. Therefore, my advice for any of you that have an injury in the future, is use it as an opportunity to engage in other actives that you generally do not have time for with your regular training. With my focus now on strength training through weights, I feel that I am getting stronger and building other areas of overall fitness that will prove to be beneficial down the road. 
Training Week 2 -Summary
Here is a summary of Laurens and my Training Week 2
Friday, August 16th
Fly from Toronto to Whistler
Saturday, August 17th
Lauren ran Lost Lake -1.5 hours
KB went to his favourite gym(The Core) and did weights for 1.5 hours
Sunday, August 18th – Cycling, running and Mountain biking
KB cycled from Whistler past Pemberton and back – 3.5 hours and over 90 km
Lauren – run around Lost Lake – 3 km
KB and Lauren – went Mountain biking around Whistler(Alto and Green Lakes) – 21k and 1.5 hours
Monday, August 19th – Geribaldi Lake/Black Tusk
Hike to Garibaldi Lake and Black Tusk – 22kms and 6 hours of hiking up and down mountain
Tuesday, August 20th – Run Whistler day!
Ran up Whistler through Singing Pass, Oboe, Flute, Symphony, Harmony – 26 km and 4.5 hours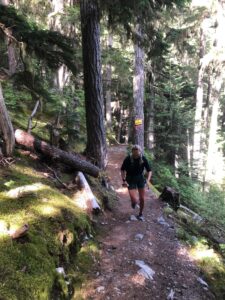 Wednesday,  August 21  
Day off. – We went to Pemberton and listed a farm, went for lunch. A great well deserved day off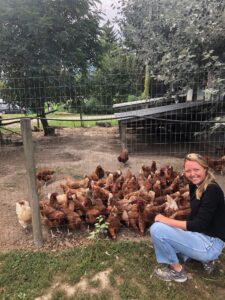 Thursday, August 22 – Rainbow Lake
Hike up Rainbow Mountain to Rainbow Lake – 6 hours of hiking – 22 km
Total 
Although the week was not about intense training at all, we managed to do approximately 175 km and over 23 hours of activity. Even with a day off, I was impressed at this level of endurance activity. 
It is truly one of my favourite weeks of the year and thanks to Lauren for being a great training partner and it is so nice to spend time with her as she now lives and works in NYC. Lauren, thanks for continuing to motivate me and I look forward to 28 + more years of training and running up Whistler with me when I am 85!
Yours in Great Health,
Kev