10 "Silver Linings" of Covid 19
Sharing the Silver Linings
There is no possible way I can say that this World wide pandemic is a good thing for any of us. It has caused so many to be infected and so many deaths and we still are in the "eye of the storm" so to speak. I feel for so many people that have been affected by COVID and especially those that have lost their loved ones. By now, most of us will at least know one person that have been infected with COVID-19 and it is not easy. The infection does not discriminate by race, age, colour, nationality or gender. It is clear that any of us can get infected with this terrible Virus at any time and I wish anyone that does get it, recover quickly and well. My gratitude goes out to all Healthcare workers and everyone else that has played a role in helping those infected. My gratitude also goes out to every one of you that are doing your part in ensuring this virus does not spread any further. As we know, this is done by social distancing, social isolation, washing hands regularly, using sanitizer to name a few.
Due to our social isolation practices, it has caused many of our worlds to be turned upside down. For most of us, our daily routines have been turned inside out and so many of us have been forced to work in isolation and from home. I have noticed that with all the "bad" that is associated wth Corona Virus, there seem to be some "Silver Linings" that people are experiencing all around us. I thought today I would share some of the "positives" that I am seeing with people dealing well with this situation. Please know that in no way do I want to diminish the harshness and severity of this pandemic, I simply wanted to share some things I am witnessing in terms of positives that I am seeing amongst the world and people in general.
I encourage you to share any gratitude stories or "Silver Linings" that you or your family have experienced during this disruptive period.
1.Spending time with Family
I have had people say that they have never spent as much time with their family members or children since most families are at home. Many of us are now working from home and due to schools being closed our children are home with us.  I have had people say to me that they have never spent so much valuable and quality time with their families and children. I have also found that many families are doing new activities together with their children like playing games, doing crafts, taking on new hobbies, and exercising together to name a few. Personally, our daughter Lauren who lives in NYC came home over a month ago and it is so nice to have her back in our lives 24/7. There is something very special about having all of our families together under one roof even at this difficult time.
2.The World Coming Together To Fight The Enemy – COVID-19
I get the real sense that instead of typical political infighting between countries and political boundaries, that the world is coming together to fight the number enemy – COVID-19. I feel that countries and leaders are working together Internationally as well as Nationally and even in our own communities to learn from each other and engage best practices. I have personally seen that in  Canada our political parties and leaders working in unison and together in order to fight this virus instead of the past where we say parties entrenched in political infighting. I believe one of the outcomes of this brutal pandemic is that we will be a more unified community, country and world based on us all working together to fight this virus.
3.Saving The Planet
Due to isolation practices, from a pollution standpoint, the world is a much healthier place in a matter of only a few weeks of cities being on lock down and people practicing social isolation.  I have read many articles on the significant reduction in the pollution count worldwide due to many industries being shut down, significantly reduced vehicle traffic and overall reduction in emissions. The studies I have read outline that there has been an average decrease of 30% in pollution counts in cities such as LA, New York City and Toronto. I hope that by the world and world leaders seeing how quickly the earth has rebounded by reductions in pollution, it will instil a sense of hope moving forward. I believe this virus is a gentle wake up call to humans on how precious the Earth we live on is and how we can have a lasting impact on the world by reducing pollutants.
4.Acts Of Kindness /Gratitude
I have noticed that people in general right now are very kind to one another. I am noticing a very polite and gracious demeanour amongst most people in general right now. In addition, I am witnessing so many acts of kindness that people and companies are demonstrating in order to help humanity and help fight this virus. Everything from our amazing healthcare workers that are on the front line helping people every day to business's that are re tooling and pivoting in order to serve the world. Many of these business's are changing their business models to support this virus by making hand sanitizer, making masks, and manufacturing ventilators to name a few. People are going out of their way to help their neighbours, friends and the elderly by dropping off plants, flowers, food and gifts. I am also noticing that people are taking "stock" of their lives and are counting their "blessings" and thinking of how grateful they are for so many things in their lives.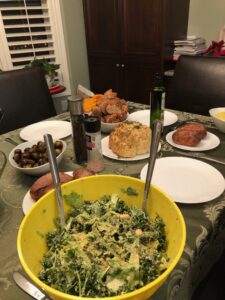 5.Taking Up New Activities
I have noticed that many people have used this timer as  an opportunity to get very creative, take up new activities, and take on new hobbies. I have heard stories of people now taking time to write a book they have always wanted to write, starting or getting re-engaged in hobbies that they have always wanted to do. This would include doing new hobbies, playing a new instrument, doing puzzles, taking up knitting to name a few. I have also seen that there has been a noticeable increase in home cooking and home baking. I believe that this is due to the fact that we are now eating all meals at home and families are together in their homes. I know myself that we have been having super healthy plant based meals every day thanks in large part to my lovely wife Barb. I saw a study the other day that showed that the largest increase in consumer products has been bread based ingredients such as flour and yeast which is a clear indication that people are getting back to basics in terms of baking and cooking.  So the take away here is if you have not taken up a new activity, look at this time as a gift and use this time to take up a new hobby or activity that you have always wanted to do.
6.Increase In Physical Activity
I have personally noticed a significant increase in people exercising and staying fit and active during this time. For those that read my blog you would know that I am a huge advocate for staying physically active. Our house backs on to a golf course and the office I have been working from in our home overlooks the course and I have noticed a steady stream of people walking, running and cycling. Online fitness programs, fitness equipment, virtual training applications have exploded during COVID. It has been proven that moderate exercise increases our white blood cell count which in turn builds are immune system. Now more than ever I am doing everything I can to build my immune system which includes daily exercise. If you missed my blog on 10 things I am doing to fight COVID – 19, which focuses on building the immune system, you can access it here: https://kevinbradyhealth.ca/10-extra-measures-i-am-taking-to-avoid-covid-19/
7.Self Isolation Does Not Mean Social Isolation
For most of us, we have realized that "Self Isolation" does not mean "Social Isolation".  Although we are all practicing self isolation, I am seeing that most are doing what they can to stay "virtually connected". There has been a massive increase in the use of virtual connection platforms such as Zoom, Skype, Goole hangouts to name a few. I know personally we are staying connected with our family daily through the use of these types of platforms. It is so important to stay connected in every way you can with family, friends, co workers, associates so that we do not feel isolated.
Like many of you, last week we had our family Easter dinner with our extended family across Canada. We had family members virtually connect from Vancouver, Rossland BC, St. Catharines, Burlington and we even had Barbs mom Marge (who is blind) join us from her condo. Although we were all in our own locations we all had dinner together, shared stories, updated on what we are all doing and it was fantastic to catch up with everyone. I would suggest you do whatever you can to ensure you stay connected with friends, family and coworkers in order to not feel isolated.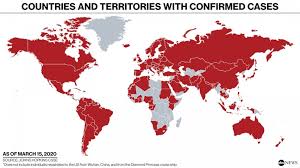 8.Self Care
I am witnessing that so many people are using this as an opportunity to practice "Self Care". My definition of Self care is people doing whatever they can to feel better, have more energy and look after themselves to a new level. This includes people getting more sleep, eating much healthier, making home cooked meals, meditating and exercising to name a few. I believe that one of the reasons for this is that with so many working from home, many people have more time as they are not spending the usual time commenting or travelling for work related meetings. So I ask you, are you using this as an opportunity to practice your own version of self care?
9.Hitting the reset button
Through talking to many friends and colleagues, people are using this time to "reflect " on their past or current situation and are looking at what they can learn from this time to perhaps change things moving forward. For example, many people have realized that they can work effectively from home and still connect with co workers and have effective meetings virtually. I know this is a new skill that I have personally learned and in the future instead of having 100% of my meetings in person, I plan on continuing  to some of them through Virtual meetings in order to save time.
10.Decluttering
I have noticed many of my neighbours have used this time at home to clean out there garages, clean out their rooms and generally declutter their homes. I can personally say that Barb has been doing a great job of clearing out a number of rooms, drawers and cupboards in our home. I have to do the same (especially with our garage) however have been avoiding it as it is a huge job! However I do know I have to get to it and for sure will get it done.
Summary – Bad Things = Good Things
As I have said in previous blogs, I believe that things in life happen for a reason and we never know what the reason is at the time. Quite often in life we have very difficult or tough situations that we have to endure. However when we look back at these seemingly "bad" circumstances,  we look at it through a different lens and realize that it was actually a good thing. During this time when we are all practicing Self Isolation,  I encourage you to look for your own "Silver Linings" .
I look forward to you sharing what your Silver Linings with our community of readers.
Wishing you and your family all the very best in health and happiness during this crazy time.
Kev