Just Get Back On The Bike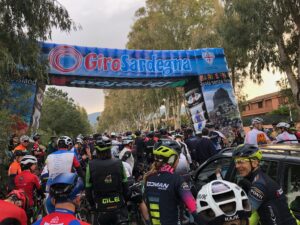 Get Back On The Bike
This past week I just completed my 4th Giro Sardegna multi stage cycling race with my son Tim and some other great cyclists from Canada. For those that are new to my blog, this is a race held annually in Italy that is a multi-stage 6-day cycling race. Every day is a different Stage (think of Tour de France) with different distances and climbs each day.
The difference this year was that I had a really bad collision on the 3rd stage of the race that destroyed my helmet and damaged my bike. The crash resulted in severe road rash, bruising and blood loss however I was very very lucky as there were no broken bones or major damage. Here is my story of what transpired that day and how somehow I got "back on the bike" (so to speak) and continued racing.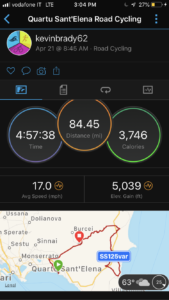 Stage 1 and 2 – All Good.
We had completed the first two stages of the race when the accident occurred. Day 1 was a longer first stage than usual for the first day with some really good climbs. I was almost 5 hours on the bike and rode 137 kms and climbed over 5000 feet. I had a reasonably decent first stage and felt good about it. Stage 2 was a TT (Time Trial) whereby you essentially go full out for a much shorter distance. I went at max capacity and although my time was reasonable, it wasn't near where I normally am I think due to lack of training over the winter months due to my broken leg (January – March). If you missed my blog on my broken leg and how I cut my healing time in half you can access it here:http://kevinbradyhealth.ca/10-ways-i-am-cutting-my-healing-time-in-half/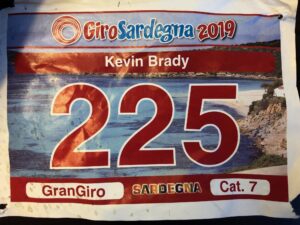 Crash Day – Stage 3
The third stage was out of town and started and finished in a town called Pula which was a gorgeous town located on the ocean on the other side of the island. It was about a 90-minute drive so we had to get up and get going early as we had to get to the start of the race on time. Although this stage had some very aggressive and steep climbs, it was a shorter stage so I was primed to get out quick with a fast group and have a fast and aggressive ride. The stage in total was 79 kms and 2736 feet of climbing and although many hills, the major climb was early in the race which was more than a 1000 foot climb. 
The race started off fast and I joined a good group prior to the first major climb and we were riding really well as a team taking turns "pulling" the group. Very soon we hit the first climb and the group split up as is typically the case on major climbs. I was climbing well and my energy levels were high and I was looking forward to getting over the peak of the 1000 foot climb so I could wind it up for the downhill and flats. I crested the top then had a number of really fast hairpin turns down the other side of the mountain. When we hit the bottom we were flying and went sailing through a small Sardinian village at very high speeds. 
When we exited the town we formed a group of 8 cyclists that I had raced with before and I was excited as I knew they were fast and together we would have a great ride. We hit a wide open flat and were racing in a single line taking turns at the front to block the wind. I looked down a few times and we were averaging between 45-50 kms/hour as a group on this flat stretch. For the non-cyclists out there, it is essential that you pay attention to every detail including slight movements of other riders and road conditions when riding as a group as you are literally about 1 inch off the tire of the cyclist in front of you. Any small mishap or movement will result in accidents so you have to be 100% on your game both mentally and physically.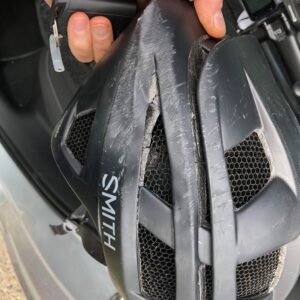 It Happened so Fast
I noticed some slight movement ahead of me in the group and the next thing I knew the cyclist in front of me came flying into my right wheel. It happened so fast but at the same time, it was like I saw everything in slow motion. The other cyclist flew into some bushes and the ditch beside the road and when he crossed my path at that speed he took me right out and I hit the road very hard at that speed.  When I stopped my bike and all the food, water bottles, keys, my iPhone and other cycling stuff was scattered all over the road. The other cyclist was in the ditch screaming in pain and I could see him laying on his back and I was concerned about any potential spinal injury so advised him to not move. I am not sure at this point the scene of events and how it happened but a few minutes later (or could have been 30-40 mins)  an ambulance arrived as well as the mechanical vehicle that helps with any bike breakdowns or picks up any bikes from injured cyclists. 
The other cyclist that was in the accident was being held quiet by his wife until the ambulance attendants put him on a spinal board and in the ambulance. 
Mental Inventory of Injures
As I laid on the road right after the crash, I did a mental inventory of my body parts and what damage I had done. My first thought was my right leg as I had broken it in 2 spots skiing in January and was concerned I damaged it or broke it again. Although I had a lot of blood and scrapes on my leg it seemed to be ok. Next I went up my body and was also concerned about a broken collarbone, ribs or wrist as those are the most common cycling injuries. Although very sore and really bad road rash on my front and back everything seemed reasonably ok. Once I got up I tried to collect all my scattered things off the road as other cyclists and cars were passing down the same stretch and very fast. 
As the other cyclist that crashed was getting attended too, the paramedics wanted me to go to the hospital as I had blood dripping down parts of my body. I felt ok considering the accident and asked that they clean me up and bandage me. They did this and wrapped my arm, elbow and knee area so that I could get going. 
Was my bike damaged?
Next, I checked the bike and it wasn't shifting at all as the hanger that holds on the derailer was bent. The bike mechanic that took the other cyclists bike tried to shift gears and I asked if he could bend the derailer back so that I could at least ride the rest of the stage which was approximately another 40 km. He bent it back and it seemed to be working so I did not even consider not continuing on with the stage at that point.
Once the other cyclist in the crash was loaded in the ambulance and I knew he and his wife were ok then I knew I could keep cycling. I am not sure of total time but am going to guess that this whole incident took approximately an hour until I was back on my bike racing again.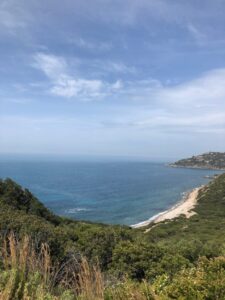 Back in the Race
I took off alone at this point as all the other cyclists in the race were well ahead of me. I am not sure if it was the adrenaline from the accident or me just mentally wanting to get back in the race but I had tons of energy and was cycling really hard as demonstrated by my power readings. 
However, it wasn't long before I realized that my rear derailer was not working and I only had 2 gears to finish the stage. I felt that even with this gear issue that I would be able to continue on and finish the last 40k as I was feeling good.
I realized while I was cycling alone along the coast of Sardegna that the accident could have been much much worse. I actually felt a real sense of happiness and joy while riding as I knew I was lucky that I got off with some bad bruising, cuts and road rash. The sun was shining along the coast as I was climbing and descending a number of seaside hills and I used it as an opportunity to thank "the powers that be" for my good fortune. As very common when I do outdoor exercise, I used it as an opportunity to thank and think of those that have passed before me.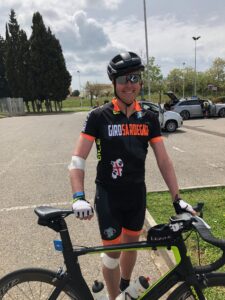 The Finish
As I got into the last quarter of the race, it was nice to actually see and catch some other racers. The kms were counting down and I used it as an opportunity to increase my power and speed right to the finish. My goal on the home stretch was to keep my speed over 35 km/hour which I managed to maintain. 
When I finished my fellow Canadians including my son Tim were at a coffee shop at the finish line. When they saw me they knew something had happened as my cycling shorts and shirt were ripped in a number of places where the pavement burned through my cycling kit. They also pointed out that my helmet was broken along the side which I was not aware of prior to that. So based on all my injuries on the right side of my body including the right side of my helmet, it was evident that when the other rider went into me it caused me to hit and slide on the right side of my body and head before I stopped. By the looks of my helmet, thank goodness for me having a great helmet. 
Damaged Derailer
As the day progressed, I became more and more sore and when I went back and showered I realized the severity of my wounds and once again how lucky I was. Tim and I drove to Calagaria to a cycling shop I had visited earlier in the week to see about my shifting issue and see what damage had been done to the derailer. The bottom line is that the derailer was shot due to the damage of the accident so fortunately, they had a similar one they took off another bike that they could put on. I also got another "Mipps" technology helmet as I feel that was what protected me and saved me in my accident.
Later in the evening after my fall and the next day I was extremely sore. I made a few trips to the pharmacy and doused my injuries with disinfectant, polysporin as well as lots of wrapping and bandaids. I wanted to do what I needed to do in order to prevent infection from the dirt and the road cutting my skin. The last few days I have felt a little better however I am still covered in bandaids and gauze although the bruising has now really shown up. I have never in my life had such a large amount and deep bruising than from this accident. It starts at the front of me and rotates right around my hip to my backside. 
The following day the team Time Trial was cancelled due to issues with the road. I must say that I was pleased with this decision as it gave me a day to get back on the bike with my Canadian pals and ride to make sure my bike was working and also get some confidence back.  We had a 60KM easy but gorgeous ride along the coast of Sardegna.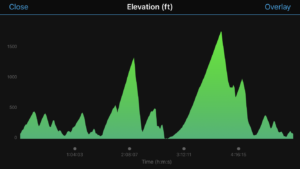 Grand Fondo
Thursday was the Grand Fondo which was the longest and most vertical of all the stages and I must say it was a grind to get through it. It was a 149k ride over two mountain passes and 6300 feet of climbing with some 15% grades. Although it was very tough, it was one of the most scenic and enjoyable stages I have ever done. I want to say a huge shout out to my Italian friends Giovani and Nancy and friends who I rode with all day. I think due to my injuries and lack of pre-season training I didn't have my normal endurance or power and they did an amazing job all day keeping me with them and pulling most of the day. Thanks so much again for all your help.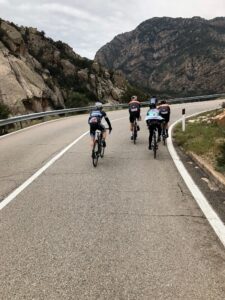 Stage 6 – Leave It all out there!
This race typically ends with a fast stretch followed by a full out uphill climb with the end of the Giro finishing at the top of the mountain. We were not disappointed as this was the case once again this year. Although the final stage is not long, it was a  full out sprint followed by a 20k climb of 2,300 feet to the finish. I must say that although my Power was not where it should be, I gave it everything I had to leave it all out there and have a personally gratifying last stage.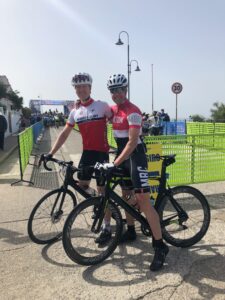 My Take Away
Sitting here a day after the Giro and reflecting on the race a few comments come to mind. 
This was an odd year for me in terms of training as I broke my leg in January. Literally, 5 weeks before the start of the Giro I was still on crutches and in my Air Cast. The interesting thing is I never thought that I would miss this event and was trying to train through it so I could do Sardegna. I had some other Canadians continue to ask me if I was going to the race and I never questioned once whether I would be there or not. 
Secondly, I obviously had a setback with the crash during the 3rd stage of the race. Once again, I never once even considered not finishing that stage (as long as my bike was rideable) or other stages of the race. I had a good pal from Canada say that many would not finish the stage in the shape I was in however I never even considered that. 
I guess my message is that racing like life, we all face many setbacks and challenges. I believe it is how we deal with those challenges and setbacks that allows us to get over them and keep going. So in summary, when you face challenges in life my message would be "Just Get Back On The Bike".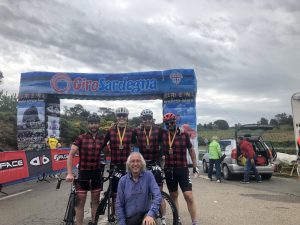 A Huge Thanks
I wanted to give a huge thanks to my son Tim who tended to me when I was injured last week. Also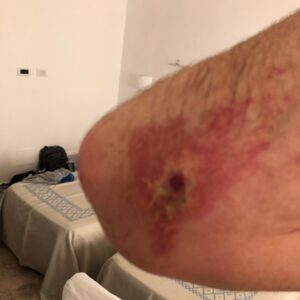 to my fellow Canadian/Milton Cycling club friends Glen, Darrel and his wife Tara as well as our other Canadian friends. A huge shout out to family(Barb, Matt and Lauren) and friends back home that sent me many well wishes and support. Thanks so much!
Yours in great health and happiness, 
Kev